15th Annual Christmas Parade Sponsored by The Sunbeam Rebekah Lodge #127 and The City of Cameron Saturday, December 1, 2001
Santa
Cameron JR SR High Band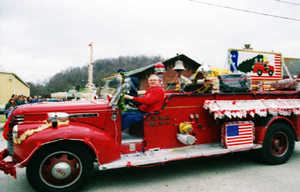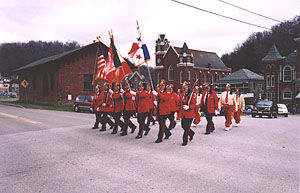 Marshall County Commissioner Biggie Byard
Shriners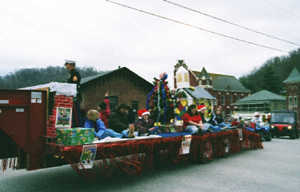 Youth Category First Place Big Run Indian's 4-H Club
Youth Category Second Place Boy Scout Pack 86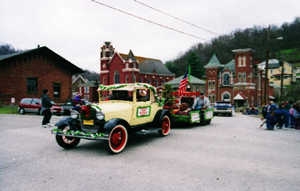 Senior Division First Place Marshall County Historical Society
Senior Division 2nd Place Marshall County CEOS
Honorable Mention Cameron Baptist Church
2001 Cameron Dragons
Winning entries in the 15th annual Cameron Christmas Parade for youth category third place was Dragon Mart.
In the senior division third place was Bungard's, sponsored by Greg's Market and Pepsi Cola.
Winning entries for House Decorating were first place - Katy Kisner, second place - Michael Wright, third place - Paul Beaty. Honorable mention were Terry Antill, Robin Clark, and Gary Mason.
Goals & Aims The Rebekah Lodge is a fraternal organization whose first and foremost concern is the welfare of its members. Rebekah members visit the sick, relieve the distressed, care for widows, orphans, and those less fortunate, and, when necessary, bury the dead. The Rebekahs' secondary concern is the welfare of the community and its members. Besides striving for Friendship, Love, and Truth the Sunbeam Rebekahs supports the Arthritis Foundation of West Virginia. The Organization also supports International Eye Banks, providing eye tests and eye testing equipment internationally.
REBEKAH CREED I AM A REBEKAH: I believe in the Fatherhood of God, the Brotherhood of man, and the Sisterhood of woman. I believe in the watch - words of our Order - Friendship, Love and Truth. Friendship - is like a golden chain that ties our hearts together. Love - is one of our most precious gifts, the more you give , the more you receive. Truth - is the standard by which we value people. It is the foundation of our society. I believe that my main concern should be my God, my family and my friends. Then I should reach out to my community and the World, for in God's eyes we are all brothers and sisters. I AM A REBEKAH!